Posted on 2 July, 2020
A lot is said about the efficiency of solar modules, and quite a bit of it is rubbish. So, I thought I would use this blog entry to clear a few things up.
WHAT IS SOLAR MODULE EFFICIENCY?
Solar module efficiency can be defined as the amount of solar energy (ie sunlight) which hits the surface of a solar module and is converted into electricity.  It is expressed as a percentage.
This brings us to our first important point.  We are talking about solar module efficiency, not solar cell efficiency.  Solar cell efficiency, as the name suggests, is the efficiency of the individual cells that make up a solar module.  This is usually measured in a lab under test conditions.  Cell efficiency measured in this way will always be higher than solar module efficiency which has losses due to connections, wiring and having the cells wrapped up in a glass and aluminium frame.  In the past we have seen solar module manufacturers proudly promoting high efficiencies but only saying they were cell efficiencies in the very fine print at the bottom of the page.
IS SOLAR MODULE EFFICIENCY IMPORTANT?
I would say – generally not, and here's why:
In the example below we have two solar modules.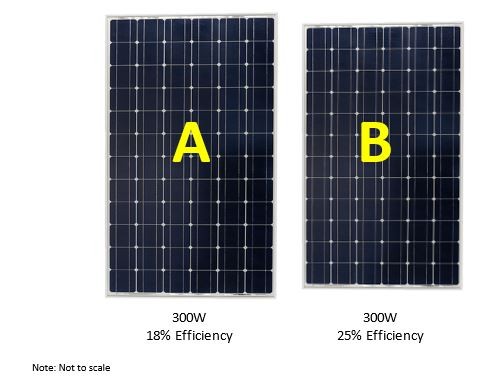 Both have the same power output (300W), but Module B is more efficient.  Because it is more efficient it can be a bit smaller and still generate the same amount of power as Module A.  But, both modules can only generate 300W.
So, if the only difference is that Module B can be a bit physically smaller, the only advantage is that it takes up less roof space.  Which means it's only important if roof space is an issue.  It is true that that a smaller solar module will require less additional componentry such as wiring and racking, but you are only making very small financial savings on this.
You would think that a solar module that is smaller, that uses less material and is easier to transport around the countryside, would be cheaper to buy.  This really isn't the case though.  Higher efficiency usually means a higher price tag.  This is probably due to the higher efficiency solar modules being better overall quality though.
THE CAR ANALOGY
Here at Tropical Energy Solutions we often explain energy use and solar generation by comparing them with how we use and think about a car (it just seems to get the message across a bit easier).
You can think of solar module efficiency as being the same as fuel efficiency in your car.  With your car you can drive a certain amount of kilometres per litre of petrol.  This is very important to us as we want to spend the least amount of our hard earned money on petrol.  Think though, how important would fuel efficiency be if petrol was free?  Then remember that the fuel for a solar module is sunlight and what that costs.  How important is solar module efficiency now?
SO WHY DO MANUFACTURERS AND SALESPEOPLE BANG ON ABOUT IT?
This is very much the world according to Mark:  If you think about all of the solar panels you have seen on the roof, in newspapers or magazines, and on the TV, what is the thing that is different about them?  Probably not much.  So, manufacturers and sales people need something to differentiate the products they are selling that customers can understand and efficiency, like a car's fuel efficiency, is something that most customers do understand.  If they started telling you about temperature coefficient, power tolerance or the number of bypass diodes, they may lose you.
THE TAKE HOME MESSAGE
Solar module efficiency is really not that important unless you have limited roof space to install the modules.  It can be an indicator of the overall quality of the solar module, but I wouldn't use efficiency as the deciding factor in choosing a particular brand or model.