Posted on 2 June, 2022
The Queensland Competition Authority (QCA) has released the new electricity prices that will take effect on 1 July – and it looks pretty grim!
In March I wrote a blog article about the price increases based on the QCA's draft determination.  The final determination has now been released and it's a lot worse than we first thought.  The following image is from their information booklet and shows what customers can expect from 1 July.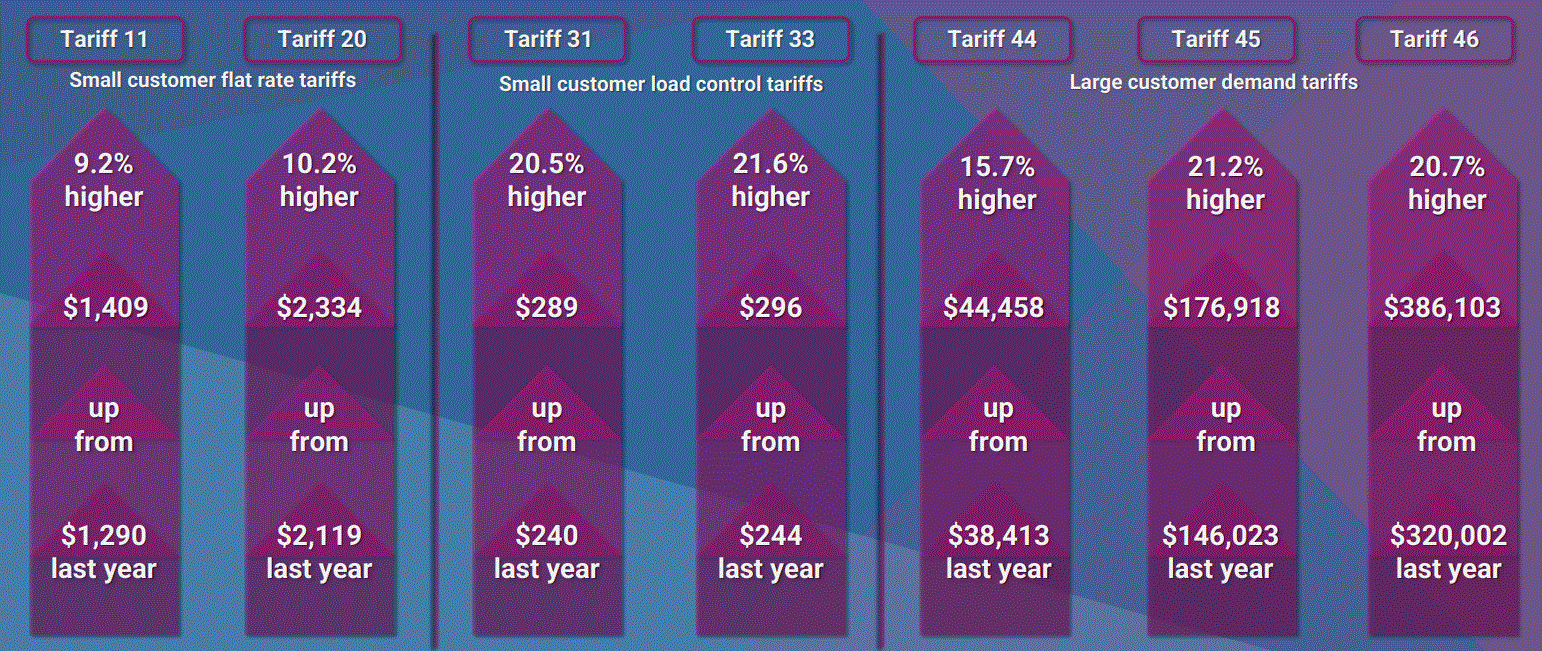 NOTE: Actual costs will be higher or lower depending on electricity usage.
The reasons for these increases are:
Significant episodes of high demand, including due to the record temperatures in northern and central Queensland in early March.
Reduced generation availability from coal-fired and gas-powered power plants due to an increase in unplanned outages.
Higher coal and gas prices, with the war in Ukraine and sanctions against Russia contributing to the increase, adding uncertainty to markets already impacted by global supply constraints.
Network costs have increased for large customer tariffs. This increase reflects the network prices approved by the Australian Energy Regulator
Source: Queensland Competition Authority
While it should be remembered that these increases come after three years of price decreases, the impact will certainly be felt, especially for large business customers.
And for some customers, I'm afraid the news only gets worse.  Large business customers who have left Ergon to other retailers and have contracts about to expire may be in for a nasty shock.  We are hearing of retail pricing offers more than triple current rates.
A SILVER LINING?
Yes, there is a silver lining, albeit a thin one.  The regional Feed in Tariff for solar energy exported to the grid will go up on 1 July from 6.5¢/kWh to 9.3¢/kWh, an increase of 43%.
WHERE TO FROM HERE?
Once you have picked yourself up from the floor, there are a range of initiatives home and business owners can implement to reduce your electricity costs.  Solar and battery storage are the obvious, and most well known solutions, but there are several others as well, including:
Energy audits
Staff training
Power Factor Correction
Tariff optimisation
Given what is happening in the contestable market, we would advise caution for large business customers in leaving Ergon in the immediate future.  Remember, you can't go back!
If you would like to find out more about the QCA's final determination visit https://www.qca.org.au/project/customers/electricity-prices/regulated-electricity-prices-for-regional-queensland-2022-23/
If you would like to find out how Tropical Energy Solutions can help you reduce your electricity costs, call us on (07) 4772 7394 or e-mail mark@tropicalenergysolutions.com.au